Kwarteng says highest rate of income tax being abolished, and basic rate being cut to 19% from next April
Kwarteng concludes with two announcements about income tax.
He says the top rate of income tax – the 45% rate for earnings over £150,000 – is being abolished altogether.
He says Labour never had a 45% rate of income tax when it was in power.
And he says the government will cut income tax by 1p in the pound from April next year. That is one year earlier than planned, and it will take the rate down to 19%, he says.
This means that we will have one of the most competitive and progressive income tax systems in the world.
That's it. He has finished the speech.
Key events
Business organisations broadly welcome mini-budget
Business organisations have warmly welcomed the mini-budget.
This is from Tony Danker, the director general of the CBI.
Like Covid, the energy crisis has meant Government has had to spend massively to protect people and businesses. That means we have no choice but to go for growth to afford it.

Today is day one of a new UK growth approach. We must now use this opportunity to make it count and bring growth to every corner of the UK.

Fifteen years of anaemic growth cannot be repeated.

Taking action to get Britain's economy moving again by beginning construction on transport and green infrastructure projects shows immediate delivery. Planning reform is long overdue.
This is from Shevaun Havilland, the director general of the British Chambers of Commerce.
Businesses across the UK will enthusiastically welcome the chancellor's pledge to focus on economic growth and speed up new infrastructure development.
Kitty Usher, the chief economist at the Institute of Directors, also welcomed the plans.
This is a good news day for British business. In a time of low confidence and economic uncertainty, the new chancellor's emphasis on going for growth will be very welcome to firms of all sizes across the UK. Taken together with the energy bills relief scheme, the package as whole will make it easier for businesses navigating a challenging economic environment in the coming months.
But she said there were concerns about whether the measures were affordable.
However, we are concerned that the chancellor had not asked the OBR to undertake its usual independent assessment of the impact of its proposals on government debt and the wider macroeconomy. Without this, neither businesses nor parliament have the reassurance that the scale of this intervention is affordable and so does not jeopardise overall economic stability.
Here is the headline on the Bloomberg UK homepage. Bloomberg is a news service primarily for the City, which is normally rather cautious in its coverge.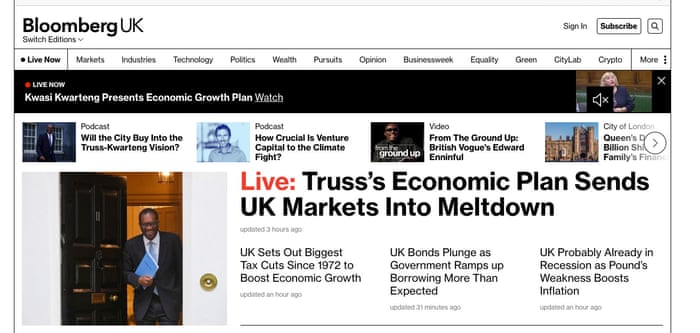 From Mark Drakeford, the Welsh first minister
In the Commons Andrew Mitchell, the Conservative former international development secretary, asked Kwasi Kwarteng if he could confirm that the UK was on course to return aid spending to 0.7% of national wealth in 2024. Kwarteng refused to give that commitment. He replied:
We're always looking at our manifesto commitments and given our leadership in this I hope we can come to the 0.7% as is practicable and the public finances allow.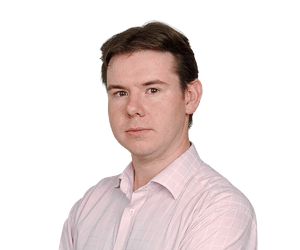 Graeme Wearden
The UK's Debt Management Office has confirmed that Britain's borrowing needs will surge this year, to pay for the tax cuts announced today.
The DMO, which is responsible for managing the government's debt and cash needs, is raising its debt issuance plans by £72.4bn, to £234.1bn.
Those extra financing needs mean the DMO must issue an extra £62.4bn of gilts – taking the total to be sold this year to £193.9bn.
This is helping to drive up the cost of government borrowing so dramatically this morning –– as investors will demand a higher rate of return for swallowing all this extra debt from the UK.
Bond yields (the rate of return for holding the debt) are now on track for their biggest surge in decades – with two-year gilts yields still the highest since 2008.
From Nicola Sturgeon, Scotland's first minister
1% higher growth could eventually increase annual tax receipts by £47bn, Treasury claims
Liz Truss and Kwasi Kwarteng argue that the tax cuts announced today will eventually pay for themselves because they will unleash higher growth, which means more economic activity, which means tax receipts eventually being higher than they otherwise would have been. It is impossible to prove that this will happen, but, as Chris Philp, the chief secretary to the Treasury, pointed out on the BBC just now, the growth plan published today does include estimates showing how higher growth could lead to higher tax receipts.
The document says:
Table 4.3 sets out a range of illustrative effects of raising GDP growth in the medium-term on tax receipts. Holding the tax (Public Sector Current Receipts (PSCR)) to GDP ratio constant at its 2021-22 level, sustainably raising annual GDP growth by ½ to 1 percentage point each year could raise annual tax receipts by £23 billion to £47 billion by the fifth year. The economic effects of the Growth Plan, and the consequences for tax receipts, spending, government borrowing and debt, will be assessed in full by the OBR when they publish a forecast before the end of 2022. Previous OBR analysis suggests that raising real GDP growth to 2-3% a year over three years, from a base growth forecast of 1.6% per year for those three years, could provide a benefit to the public finances of £10-40 billion through a range of effects across tax and spending.
And here is the chart (table 4.3).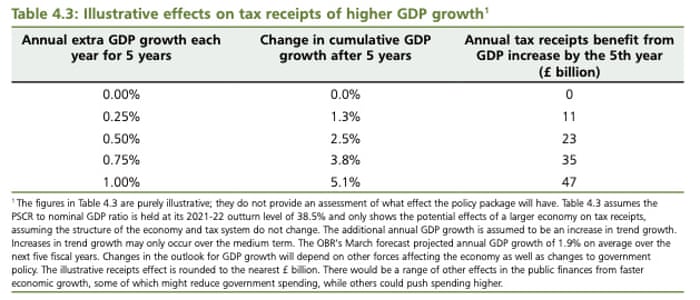 As always, the smallprint is worth reading. It says these figures are "purely illustrative" and "do not provide an assessment of what effect the policy package will have".
Sterling extends losses on fears over unfunded tax cuts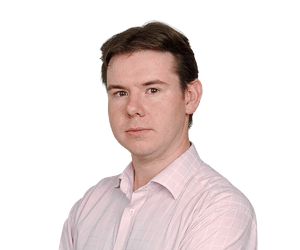 Graeme Wearden
Sterling has tumbled to a fresh 37-year low as the financial markets show alarm over the swathe of unfunded tax cuts announced by Kwasi Kwarteng this morning.
The pound has dropped below $1.11 against the US dollar, for the first time since 1985, as investors baulk at the huge extra borrowing needed to fund today's plans.
That's a drop of a cent and half so far today.
Susannah Streeter, senior investment and markets analyst, Hargreaves Lansdown, warns that confidence in the UK economy has faded away further following this morning's announcements.
'Kwasi Kwarteng has set off fireworks with this budget, which collides with the Bank of England's efforts to dampen down inflation, while sparking a firestorm of criticism about benefiting the wealthy much more than the poorer sections of society.

Scrapping the top rate of tax will return many thousands of pounds to high earners, while lifting the cap on bankers' bonuses is likely to be hard to swallow for low paid workers on the picket lines, calling for pay rises to help them survive the cost of living crisis.
Streeter warns that Liz Truss's policies could crash and burn, particularly if government borrowing costs soar further (they've already surged alarmingly today).
There are signs that buyers of UK government bonds are becoming even more nervous about the government's 'splash the cash' policies, given the mounting debt pile.
Rachel Winter, Partner and Investment Manager at Killik & Co, also says sterling's weakness shows a lack of confidence in the government's plans.
SNP's Alison Thewliss says mini-budget amounts to 'plan for recession and public sector cuts'
In the Commons Alison Thewliss, the SNP Treasury spokesperson, said the mini-budget was a plan for recession and public sector cuts. She said:
It is a plan for recession, for debt on an unsustainable trajectory and almost inevitable public sector cuts to come.

Actively choosing to permanently cut taxes and spend eye-watering sums to patch up a failed energy market while inflation soars, interest rates are hiked and recession looms, it will not create growth, it'll create economic chaos.

Nothing he has said today will provide any reassurance and give hope to ordinary people, folks struggling to get by in broken Britain.

Scotland is looking for a different path. Scotland needs independence.
In response, Kwasi Kwarteng, the chancellor, said: "What Scotland doesn't need is reheated socialism from the SNP."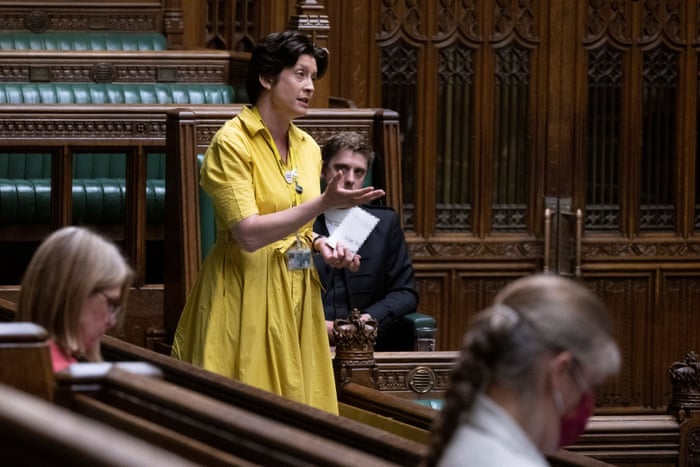 And this is from Paul Johnson at the Institute for Fiscal Studies. It means the price of UK government borrowing is rising.
Why? Because markets fear that borrowing is getting out of control. Earlier this week the IFS said rising government debt 'would eventually prove unsustainable' under the government's plans. Johnson is standing by that judgment.
The pound is falling, Sky's Ed Conway reports.
'Politically toxic' – Sunak-backing Tories express concern about mini-budget measures
Aubrey Allegretti
Rishi Sunak supporters have turned on the chancellor, pouring heavy scepticism on his argument that tax cuts will grow the economy while curbing inflation.
Mel Stride, who helped run Sunak's leadership campaign, said there was a "vast void" in the statement given the lack of an independent analysis of today's announcements by the Office for Budget Responsibility.
In the Commons he told Kwarteng that "now is the time for transparency" and that he should "provide a calmness to the markets".
John Glenn, the former City minister and another key Sunak backer, said there was clear concern in the financial markets about the "irreconcilable" realities of monetary tightening at the same time as fiscal loosening.
He was alluding to the opposite directions the government and Bank of England seem to be pulling in. He also suggested that lifting the cap on bankers' bonuses was of lesser importance to the overall tax burden banks face.
Another Sunak-supporting MP told the Guardian they "completely despair" at the measures announced – "because I'm a member of a party that stands up for the squeezed middle, not the very rich". They add: "This will be politically toxic and economically dubious."
Scrapping the 45p tax rate would leave people "aghast", they added.
This is from the consumer champion Martin Lewis on the mini-budget.
Labour's Rachel Reeves says mini-budget 'return to trickle-down of past' that amounts to admission of 12-year Tory failure
Rachel Reeves, the shadow chancellor, responded to the mini-budget for Labour. Here are extracts from her speech.
When the prime minister says she wants to break free from the past, what she really means to say is that she wants to break free from her own failed record, because where have the last 12 years left us?

Lower growth, lower investment, lower productivity and today we learn that we have the lowest consumer confidence since records began.

The only things that are going up are inflation, interest rates and banker bonuses.
It is all based on an outdated ideology that says if we simply reward those who are already wealthy, the whole of society will benefit. They have decided to replace levelling up with trickle down.

As President Biden said this week, he is is sick and tired of trickle-down economics. And he is right to be. It is discrecredited, it is inadequate and it will not unleash the wave of investment that we need.
The chancellor has made clear who his priorities are today – not a plan for growth, a plan to reward the already wealthy. A return to the trickle-down of the past, back to the future, not a brave new era.
These stamp duty changes have been tried before. Last time the government did it a third of the people who benefited were buying a second home, a third home or a buy-to-let property. Is that really the best use of taxpayers' money when borrowing and debt are already so high?
Never has a government borrowed so much and explained so little.

Economic institutions matter yet this government has undermined the Bank of England, sacked the respected permanent secretary at the Treasury and silenced the Office for Budget Responsibility. This is no way to build confidence, this is no way to build economic growth.
Labour believes in wealth creation …

We will always support enterprise, creativity and hard work. We want British business to grow, to be successful and to contribute to our country's prosperity, what we don't believe – the chancellor and prime minister do – is that British workers are idlers.

This statement is more than a clash of policies, it is a clash of ideas. Two different ideas about how our country prospers.

If you are a pensioner worried about the cost of living, a working family seeing your mortgage rate going up, a small business whose costs are spiralling, the government's announcements today do little to reassure them.

Bigger bonuses for bankers, huge profits for energy giants, shamelessly shielded by Downing Street, and all the while ministers pile the crushing weight of all of these costs onto the backs of taxpayers.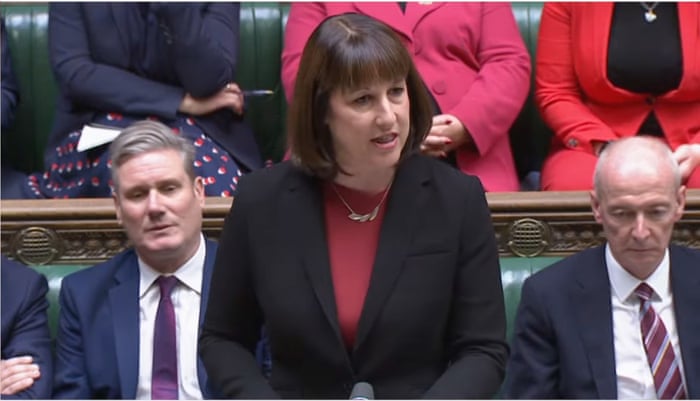 Here is some snap reaction to the mini-budget from experts.
From Paul Johnson, director of the Institute for Fiscal Studies thinktank
From Torsten Bell, chief executive of the Resolution Foundation
From Faisal Islam, the BBC's economics editor
From Ben Zaranko, an IFS economist
Tax cuts to cost Treasury around £37bn in 2023-24, Treasury reveals
Here is the chart from the growth plan document showing the cost of the tax cuts announced today.
The headline cost for 2023-34 is £26.7bn. But this calculation includes revenue of £10.4bn from the energy profits levy (a measure that has already been announced), and if you exclude that, the tax cuts announced today will cost around £37bn in the next financial year.
Given that today, for the first time, we got a costing for the energy bills package (see 9.42am), Kwasi Kwarteng has announced measures costing the exchequer about £100bn.